A Game of Thrones: The Board Game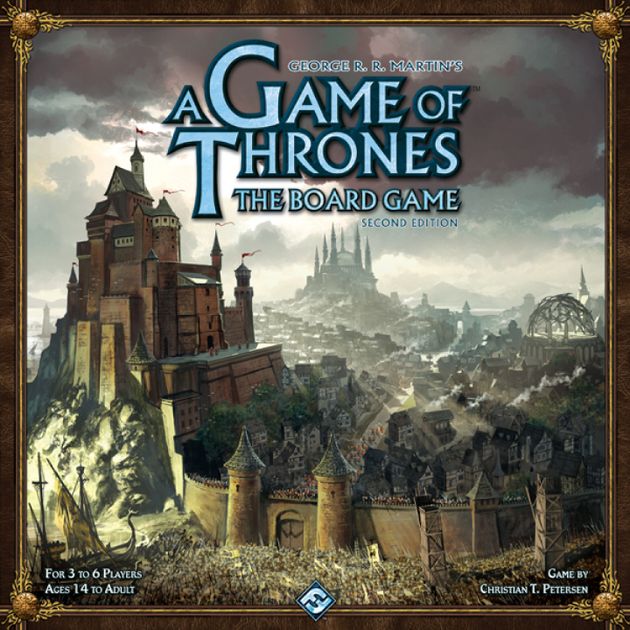 Broderskabets hofspil. Spillet der blev spillet ved både skabelsen og indvielsen af broderskabet. A Game of Thrones: The Board Game, er klart inspireret af Diplomacy og er intrikat og komplekst på mange af de samme måder. Spillet udfolder sig jf. situationen omkring Clash of Kings (de to udvidelser, A Feast For Crows og Dance With Dragons opdaterer spilbrættet til den nye situation i bøgerne) og indeholder alt det man ville ønske sig fra et spil der forsøger at emulere George R.R. Martins forrædderiske bogserie.
Antal spillere: 3-6, bedst med 6 (2nd Edition og ADWD) og 3-4, bedst med 4 (AFFC).
Varighed: Mellem 3 og 8 timer (2nd Edition og ADWD) og 2-4 timer (AFFC)
Grad af tilfældighed: Meget lille til lille. Tilfældigheden udgøres af globale spileffekter (Westeros Cards) hver tur og evt. de valgfri Tides of Battle regler.
Indehaver af spillet: Stormesteren (3x 2nd Edition og 1x AFFC/ADWD)
Reglerne: Regelbogen, FAQ & Errata 1.0, BB&B House Rules findes på Facebook gruppen under filer for nuværende.
Side på BoardGameGeek: 2nd Edition, AFFC, ADWD